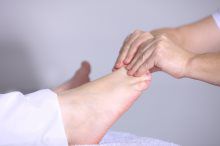 Grounding foot massage ​​​
This service was created in gratitude of our feet for keeping us grounded and secured.
During this session therapist provides medium-firm to deep pressure of massage techniques on the feet to target key points connected to areas of the bodies associated with organs and meridian points which are then stimulated to promote energy flow and overall health and well-being.
Try adding the Herbal Foot Detox Soak before this treatment for better results!
| | |
| --- | --- |
| 30 Minutes | $40.00 |
| 60 Minutes | $75.00 |
| 75 Minutes | $80.00 |